Post by Dobereich on Mar 6, 2013 4:19:52 GMT -5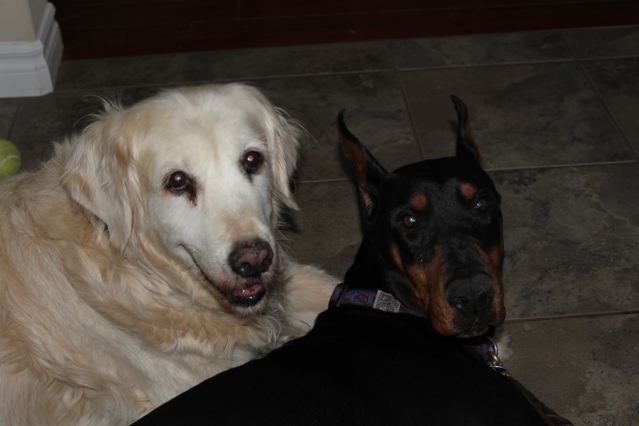 What do you believe? I probably won't be swayed from waiting until after the first heat cycle for any future dogs, but it is something I've always wondered about and like I've said many vets push to get the spay done earlier and earlier nowadays some even claiming it will save you money on the licence (not after a $400 spay bill it won't). I've always paid for the intact dog licence for a year and then spayed them it works for me.
Everyone else can weigh in too, I just addressed this to Monica because I am curious about her opinion.
Martin
Hi guys, sorry for my absence, haven't had a lot of computer time lately. I think its best to leave a dog mature, physically and mentally, before being spayed or neutered. Ideally I would wait 6 months after the dog is mature. Now what is mature? When the dog looks as an adult should look... fully grown and filled out. This will mean different ages for different breeds, but for my Dobes it could be 2 1/2 years of age.
I would plea with my female owners to allow their female at least one heat, then wait 4 months before spaying. But I would prefer they have a couple heats depending on their physical growth and when the first heat was. Females have a higher risk of infection (pyometra) and mammary cancer when being left intact and not being bred. For that reason I think a non-breeding female should be spayed by 3 years of age.
Males are different, they can keep their boys for as long as they're not causing issues. But to catch a male before the age where prostate enlargement is more prevalent, and to allow a male a healthy recovery to anesthesia, I'd recommend a male be neutered around 6 years of age.
But if you're asking me what I think the earliest time a Dobe should be altered, I'd say 18 months for bitches and 28 months for males. I can't force people to wait, so in my contract I allow a male to be neutered as early as 14 months... but they are forbidden to be neutered before that. For females I would rather see them spayed then having pups as a puppy. so if the owner is not able to keep their female from getting pregnant, then they will just have to suffer the possible repercussions of spaying before the first heat.... and I fully believe that there will be repercussions. Typically females will become incontinent early in life from being spayed early. The result is a supplement of carcinogenic synthetic hormones... so really, what is the lesser of the two evils?
Its a shame that today's vets are being programmed to believe that its in the dog's best interest to spay and neuter early. This way of thinking is only known to North Americans. My European friends cannot believe that we would even consider sexually altering a puppy! There's a Dobe breeder who has her pups spayed and neutered when they get their ears cropped. This is not proven to be in the dog's best interest at all and there's no clinical study to support it. In fact, refer to the attached file by Dr. Becker and there are several references that would prove otherwise. that there are far more adverse effects to spaying and neutering our pets too young, and there's clinical studies to prove it.